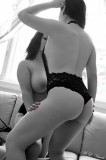 You've fantasized about it before…two beautiful women whose only goal is to satisfy your every pleasure and to give you an experience that you will never forget! Perhaps you have tried to fulfill this fantasy before, only to have felt disappointed afterward?
Let me and one of my girlfriends usher you into a lush adult playground of wanton plural pleasure where you are our focal desire! It is our goal to deliver an experience that exceeds expectation, to provide you a uniquely tailored actualization of the most common of male fantasies!
We look forward to hearing from you…
To book the fantasy of a lifetime, please either fill out a request on my booking page or e-mail me at Noellelarue@protonmail.com.